Laurent Rigal, native from Clermont-Ferrand and son of an excellent cook mom, started in the business as a pre-apprentice at the age of 13.
At 21 only, he took over the management of a restaurant in Royat, and then becomes a chef at Clavé's in Clermont.
---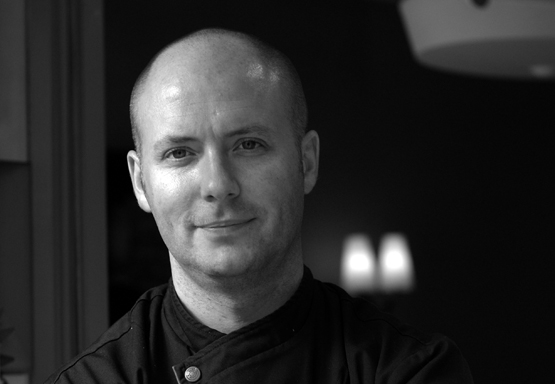 The turning point in his career was his encounter with Paul Bocuse who convinced him to practice his talent at the Alexandrin's in 1997. Laurent Rigal took over the restaurant in 2007 and got his first Star in the Michelin guide in 2008.
Laurent Rigal's cuisine, the dishes of which are nicely assorted and natural, interprets the seasons and natural flavors, plays on a creative and well-rounded score , puts into music quality products he himself buys at the Halles de Lyon every morning.
Laurent Rigal develops the spirit of the Lyonnaise cuisine embodied by his Bresse poultry in vinegar. He rimes tradition and inspiration even in his desserts with the famous « crêpes Suzette » and the sweet cakes with « Guanaja » chocolate, marmalade of oranges candied.
This creative chef is classic in is tastes as well as original in his compositions. Dishes, even though you've never seen them before, remind us some well-known flavors, clearly identifiable which, in an harmonious whole, reveal themselves as subtle touches of originality, such as an asparagus and broad bean cream, asparagus tips and morels, coriander cream.
What does this talented chef dream about ? To keep his head in the stars, to adapt over and over again this refined and authentic cuisine to make everyday the happiness of his guests.
---